Art Deco Engagement Rings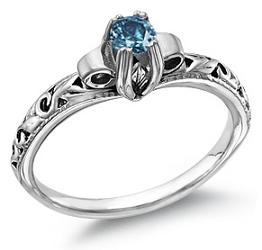 Antics have proven themselves to be sufficient for wearing even after more than sixty years. Metaphorically speaking, they are timeless like a broken watch. Art Deco engagement rings are antics that date back to the 20s of the last century; an age of exploration, machines and huge changes both in the map of Europe and in European thinking.
Emerged from a French movement, and gotten it's name from a French organization, loosely translated to 'The Exposition of Decorative Arts and Modern Manufactures', the Art Deco jewelry movement symbolizes vivid contrasts, slight minimalism and extensive use of diamonds, although rings with other gemstones, such as emerald, ruby, turquoise, etc exist.
The monument of Art Deco, the 300 meter high Chrysler Building, can still be seen today by inhabitants of New York. Art Deco engagement rings don't fall short to this splendid building. Not in proportions, of course; vintage rings from this era range from stylized Edwardian rings to monumental masterpieces with huge center stones and linear -often filigree- settings.
Yes, Art Deco engagement rings are by no means cheap. This doesn't mean that such rings don't fit the pocket of the average person with an interest in antiques; some Art Deco rings have smaller diamonds, and in most of these cases the platinum setting (platinum is the metal most often used in Art Decos) can prove to be costlier than the actual diamonds.
Art Deco replicas are also available, and, though they are rarely as 'vintage' as the originals and seldom give a certain feel, hence the emotions of a different era are impossible to counterfeit; replicas are ultimately the only way to go with quality Art Decos if you are on a tight budget. For the form of a ring, Art Decos have a huge diversity. From solitary rings with a small, archaic center stone to a gigantic, accented ring that could be mistaken for an earring, options aren't a problem for rings like these.
  They are pricey and that isn't a secret. If you want an antique ring and are on a tight budget, rings from the 30s are a more viable option as they used cuts and settings that made the size of diamonds appear bigger. But ultimately, what matters is that both you and your fiancé love the ring. An antique or not, Art Deco rings certainly give a terrific taste and bring art to jewelry - not the other way.