Baguette Engagement Rings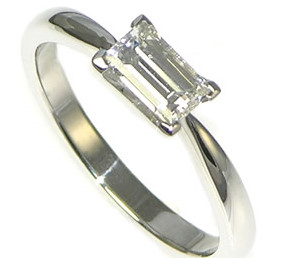 Baguettes are typically used as accent stones, but this doesn't mean that diamonds of this cut aren't used on solitary baguette engagement rings, it just happens very rarely. The rectangular cut makes a solitary stone on a baguette engagement ring timeless, but the specific fire brings life to this sort of diamond which was named after the French baguette - "long rod". The baguette cut originally came in style as an answer to the geometric-themed Bauhaus movement in the 1920s, however, the original cut dates back to earlier times. The simplicity of this traditional cut allowed it to be produced even with the limited set of tools and technologies that were used in the 19th century.
The shape of a baguette cut resembles an emerald. Octagonal shapes aren't common for long diamonds. However, this isn't the case for baguettes. The octagonal, elongated shape makes it an arguably good choice for women with particularly slender fingers, but this depends heavily on the proportions of the stone. The recommended length-to-width ratio for baguette cuts is 1.5:1, but again, this varies a lot and the ratio can go up to 2.5:1 in some instances. There are downsides to the simple shape of this cut, because a shape like this requires a crystal clear (which in turn means expensive) stone with a deep color for the diamond to look fiery.
This step cut only has 14 facets, losing even to such simple cuts like the emerald cut. As accent stones, baguettes are typically meant to shift the attention to the center stone, usually by two horizontally placed baguettes that turn to the center. The classic look of baguettes pairs well with other gemstones like topaz or peridot, but such extraordinary setting requires very clear accent baguettes. Baguettes typically come in less-than-carat weights but a proper baguette engagement ring requires more than one baguette. An especially powerful combination of baguettes is a line of two or more baguettes that have no gaps between them. The play of light with fiery flashes shining through the stone, and the matching shape together with the spectral balance, make the baguette a true giant of accent stones.
Some consider baguettes outdated, but this is certainly not the case. The vintage look takes us back to the romantic era, which some could deem outdated and unfashionable, but on a contemporary ring, baguettes can look like the architectural monuments of today. The baguette is ultimately a chameleon; baguette engagement rings are usually contemporary design masterpieces, because of the effort and time involved to properly place the accent stones to form a striking, powerful ring that will make proposing as elegant and romantic as it could possibly be.