Lucida Engagement Rings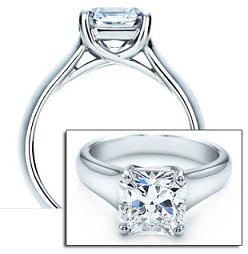 Lucida cuts are fancy shaped diamonds. This cut is patented exclusively by Tiffany & Co., which means that each and every ring that's sold with a stone of this cut will have: 'Copyright, Tiffany & Co. Lucida' together with parameters of the ring engraved. The ring was originally meant for wedding rings, but after numerous requests of customers, lucida engagement rings are finally available for the customer.
The shape of a lucida cut diamond is not like that of ordinary cuts. Lucida is a square mixed cut with 50 facets. Technologically, this cut is nothing new, even for 1999, when it was first launched in New York City. But the new shape, which is highly unlike any other cut, is what keeps making the lucida cut more popular. The shape comes with a lot of resemblances to other square cuts like the princess cut, but it is thought to have more fire. When viewed from the side, a loose lucida diamond looks like a cathedral arc.
Lucida engagement rings have a specific, tentative spark; what makes this sort of fire alive is the extraordinary design which leaves a lot of room for imagination. As lucida was a new cut, Tiffany & Co. had to extensively advertise this new type of cut. Now, the results are paying off, and probably in quite large scales, since the company is one of the rare firms that had their net revenue go up in 2009. Lucida diamonds, and that means lucida engagement rings too, are now available in over 150 countries - almost every single country in the European Union and even in eastern countries like Japan where western traditions like Christian weddings are only gaining recognition because of globalization.
Although not considered classic diamonds, lucidas have a certain amount of classiness within them. Tiffany & Co. actually wanted to make a stone that would fall in the "modern classic" category, and the result is astonishing. The table like top, though, makes only the finest diamonds suitable for this cut. For the lucida cut diamond to be suitable for a center stone, the diamond should be of at least SI2 clarity, with a 'Good' or 'Very Good' cut, and 'G' color, otherwise, the stone can look disappointing for such an extraordinary cut.