Tanzanite Engagement Rings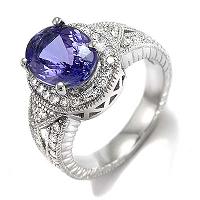 Tanzanite was originally found circa 1967 in Tanzania, Africa. Shortly after its discovery, the blue gems had a sound introduction to the jewelry world.
Everyone wanted tanzanite, and it was apparent that a new holy grail was found for jewelers, and the huge advertising campaign was partly at fault to that. However, the fuss quickly settled down and it was clear that tanzanite was merely a semi precious metal.
Nowadays, this vivid gem is used in tanzanite engagement rings that usually consist of a tanzanite center stone and few accent stones, usually diamonds, which emphasize the unique characteristics of tanzanite.
  This richly colored gem usually comes in deep blue color hues. Due to its rarity, it is inevitable that you, if you opt for a tanzanite ring, will have to order the tanzanite engagement ring on the Internet. Some jewelers have a supply of tanzanite rings, most don't. Seeing loose tanzanite in a jeweler store would be something close to a miracle.
If you ever get see tanzanite (that weighs more than one and a half carats) in person, you'll be amazed of the amazing light play these stones have. However, to preserve this brilliance and deep color, tanzanite has to be taken care of; ask the jeweler for information on that.
Usually cut in the trillion cut or round cut, tanzanite is all but affordable. Due to the relative softness of this material, it is very hard for cutters to cut this stone. In short, cutting tanzanite involves the latest technologies and a very skilled cutter, thus making the final gem even more expensive.
If possible, order a loose stone, get a grasp of it and order a custom setting that fits the exact stone. This will emphasize your creativity and willingness to go through quite tough things (by actually avoiding some, hence tanzanite is easily confused with lolite, which can be identified by looking at its side - lolites are transparent at the sides.) to make a stunning ring that is made only and only for your love.
Expensive as they may be, tanzanite engagement rings are nothing short of a miracle to see in person, for they are truly unique. Few people actually hear about such rings during their search for an engagement ring.
A tanzanite engagement ring expresses many things, and, even if the ring itself doesn't emit love, the fact that you tried so hard to actually find one, will express love with its own existence. The benefits of a tanzanite engagement ring most definitely outweigh the costs, because you'll be sure that no other engaged woman will have a ring like your to-be spouse will.