Heart Cut Engagement Rings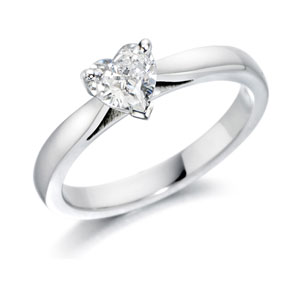 A heart has always been the symbol of love, and what better way to surprise the person you love than getting that special someone a heart cut engagement ring?
This sentimental ring is actually has a pear shaped stone with a cleft at the top, and in matters of 'romanticism', a heart shaped ring can be considered the most romantic, maybe seconding the classic round cut ring. A heart engagement ring has a movie aura, and the diamond can have a great sparkle, depending on the cut and the clarity of the stone.
The cut is critical for this type of diamond. As a general rule, heart shaped stones should have the best cut you can afford, and that means 'Good' and above. Although the shape adds romance to heart diamonds, it's not enough if the diamond is simply a perfect heart.
>> Click here to shop for the finest heart cut engagement rings at James Allen.
The cut is what adds sparkling, and, as a rule, the better cut you get, the happier you'll be with the ring that'll bear a shiny heart shaped stone. Other than the cut falling in the 'Good' category, the 'Color' should be at least G, but the clarity - at least SI2. A stone can look good even if it falls below these categories, so take these settings as a loose example of the diamond you should strive for.
Other than that, the heart engagement ring stone has to have good proportions. Keep that in mind at all times, especially when shopping online. The diamond can look differently on your screen than in real life (and that includes proportions), that's why heart engagement rings aren't exactly the ones you'd want to order from online retailers. The proportions are crucial for obvious reasons e.g. a fat, wide diamond will look like a 'bling', not a proper stone, but a narrow will look either cute or... shrunken by force.
More often than not, people who sought for heart engagement rings didn't actually get a heart ring. There are two major problems when purchasing a ring like that. First of all, they are quite rare.
Although heart shaped stones recently came in fashion, not too many jewelers have them. Secondly, a heart stone under one carat is a rarity, and they are pretty costly. However, if a heart-shaped diamond is what you think you need, by all means go for it, just take your time and do some proper research and you'll certainly find the perfect diamond if you visit some local jewelers.