Oval Engagement Rings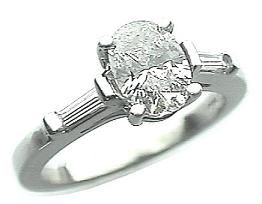 Oval engagement rings can refer to two things: engagement rings with an oval cut diamond in them, or rings with an oval shape topping. Regardless of which you were interested in, this article will try and review the styles both oval cut and oval shape rings come in, what can you expect out of both and all in all, we'll do our best to supply you with much needed information on these fine rings.
Oval cuts are ancient diamonds that first came into fashion over six hundred years ago and were mostly used in ornaments and mosaics. Although not as common as the American standard round brilliant cut (in fact, all other cuts are less popular, because the round cut accounts for 75% of stones sold), an oval cut stone, much like an oval shaped ring offers an elegant elongating effect which makes the finger look slimmer and longer. A stunning oval cut diamond on an oval-shaped engagement ring has a particularly appealing aura.
>> Click here to shop for the finest oval cut engagement rings at James Allen.
Diamonds are expensive; before buying one always sort out the 4 Cs in the stone's papers. The most important aspect of these rings is clarity, so it is important to seek for a stone with the highest clarity you can afford.
Ring settings aren't that expensive though, and a modern oval ring setting can cost from $100-$1000, depending on a style you choose. Oval diamonds, as the name implies, are oval and are typically near-to-round diamonds with a length to width ratio somewhere between 1.33-1.66. Proportions vary though, and so do the prerequisites.
Rings with oval settings look splendid in a slender hand, but, if spliced up; oval cuts can make good rings for shorter fingers too. You must visualize how the ring will look on the finger before buying one. A ring with a length-to-width ratio stone of 2.00 and up can look plainly weird on every finger, but a stone with a ratio less than 1.33 is ultimately a round cut with little differences. Use common sense to determine what kind of stone you should prefer.
Overall, oval engagement rings are popular enough to be accessible, and common enough to be a great deal for people with an average budget. They're not as sparkling as round cuts (which are actually the most fiery stones available), not as pretentious as emeralds or trillion cuts; they're just oval cuts, and an oval cut is fine too, because in the end, it is most important that both you and your sweetheart like the ring like you like each other. And oval cuts are most certainly likeable.