Preset Engagement Rings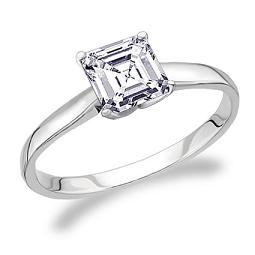 Preset engagement rings are rings that are 'ready-for-use' right after you get them. Although creating your own ring with your own stone at the jeweler's can be an exciting experience, the results differ. By choosing pre-set engagement rings you are no longer taking risks; you can see the actual ring before you purchase it, with a possible exception of online ring shops; just be sure to check the return policy of the seller.
Preset engagement rings have numerous upsides. As we stated - there is little risk of failure involved. Furthermore, preset rings tend to look rather savvy and fashionable and you can get a ring with an eye-clean stone in a timely manner. A handful of sellers offer putting your own diamonds in preset rings or, alternatively, jewelers sell stones that will be inserted in a preset ring for little or no additional cost.
However, there is a downside to all this... and that, as you can gues, is the price. More often than not, preset engagement rings turn out to be rather costly. This can be avoided by finding the best diamond that looks good; the specific criteria of the diamond (except the cut) aren't that important if they are invisible, don't they?
You have to know exactly what you want... or know it when you see it; you must also follow the fashion tendencies too. Classic preset engagement rings are slowly returning in fashion - those include solitary emerald cut rings, huge round cuts and rings with accent stones.
Nowadays, however, the thing that matters most in a preset engagement ring is the ring itself. Platinum or Gold have replaced the Titanium/Copper rings that were fashionable a few years ago - an extravagant choice, those materials weren't fit for engagements rings to stay on the market for too long.
Don't get too tied up in logic, though, because an engagement ring isn't exactly a logical statement to your love, you know that emotions are what rule the relationship, not logic. Instead, try to focus on finding the right balance between the look and the cost of your pre-set diamond engagement ring.
Keep all of the four Cs in mind, but when searching for the special ring, try and find the one with the best cut you can afford, because the quality of the cut is crucial in making the diamond shine. The other Cs matter too! But it is the cut that needs to be either Very Good or Excellent, otherwise the diamond can be the best there is and still look awful.