Princess Cut Engagement Rings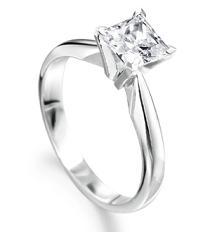 The princess cut is quite similar with the traditional round cut... at least in terms of brilliance and fire. The name of the cut is hideously romantic, but the stone itself (when illuminated) radiates an icy crystalline light that is equal with the aforementioned round cut in terms of intensity. The princess cut is as special as its name implies, not only for its inside qualities, but also for its specific shape that can gather enough light to make it a worthwhile solitary ring.
It is very important for the princess cut engagement rings to have an excellent setting. These stones are almost meant to fall out; most princess cut stones have cropped corners which make the stone less likely to chip out. Although the setting, thus, the ring too, has to be top-notch, the diamond can have its flaws here and there, because of its forgiving shape. The minimum color for princess cut rings should be 'I' or 'G', but the clarity should be at least SI2, but the quality of cut - 'Good'.
One of the specific things about this cut is the way light dives in the stone. A loose princess cut diamond might look boring, but, when in a ring, a princess cut diamond does wonders. Light rays enter the stone like a frozen eternal kingdom, and it may seem that the light vapor actually comes from the diamond itself. When you look into a princess cut engagement ring, the myriad fire sparks engage in a seemingly endless play.
If you think that a princess cut engagement ring would be the right choice, by all means go for it, because the standard for these stones is very high, which means that you won't have to do a lot of research; they aren't pricey, because jewelers can save more weight by cutting princess cuts than other stones; although it's near impossible to find an 'ideal' stone (97% of the stones don't meet the 'ideal' standards), the forgiving shape emphasizes the good side of the stone.
One of the other upsides of princess cut rings is their wide availability, which, in turn, means that you'll have a vast choice and your local jeweler will probably have numerous princess cut diamonds, both loose, both in complete rings. Unlike e.g. heart shaped diamonds, these stones are popular choices and finding them won't be too much trouble - the princess cut is the second most popular cut after the round brilliant cut. You can't go wrong with a princess cut engagement ring, simply because so many people choose it. It will surely be the right proposal gift for your beloved princess.