Round Cut Engagement Rings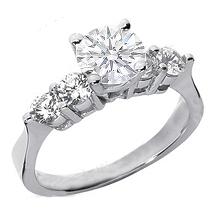 Round diamonds are classic shaped, sparkling stones with a vintage touch. The shine of these brilliants is arguably the best in the industry. This is also the most popular shape, accounting for about 75% of diamond sales.
However, big round cut engagement rings are a luxury few can afford. The cost of these stones comes from the weight attrition when making round diamonds from unpolished ones. There are 58 facets in a round brilliant, together with the culet. The quality of the cut determines how the play of light, the fire, will look within the diamond. That's why it is so important to take a close look at the diamonds you're buying.
It's not a secret that for the average customer, the most important of the "four C's" is Cost. Although a round ring will probably be shiny, avoid buying solitary round diamond engagement rings if you're on a tight budget. A ring with a tiny piece of diamond on it will not only look funny, it will look bad.
When on a tight budget, try marquise, oval shaped or emerald cut diamonds for your ring - they are longer and create an illusion of greater size. The prices vary, starting from $20,000 per carat for perfect loose diamonds, and about $5,000 per carat for diamonds that are far from the ideal.
Although the carat count matters, a carat is roughly 200mg; it does not tell anything else about the diamond, e.g. the size of it. The carat weight makes for but a fraction of the diamond's price, color is more important, clarity is most important.
The actual ring needs to have quality holders and the ring, both the color, the size, the everything of it, should accent the stone. The stone is the most important part of the ring, simply because, blatantly speaking, it's a really expensive little stone. The materials of the ring vary, but, as a rule, avoid anything that will take attention away from the stone(s).
You can say many things about a person when you look at their engagement ring, but round engagement rings certainly are not something that indicates a lack of imagination. What matters most is not the shape, but the brilliance, the clarity of the diamond. If both are fine, it is clear that the person who bought the stone is willing to give thought to such an important little thing.
Everyone buying jewelry of any kind should take at least a peek at the depths of this fine art and do some research on their own; especially a person who seeks to show affection with a crystal clear kaleidoscope-like diamond that screams 'will you marry me?' with each facet.