Unusual Engagement Rings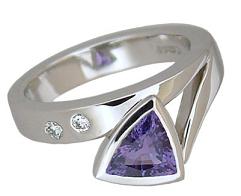 'Unusual engagement rings' is a term that has a lot of meanings. People who search for an unusual ring, usually aren't sure yet what type of ring they want.
It can refer to a lot of varieties, from vintage or antique rings, to contemporary rings which just have something interesting about them. An unique engagement ring is, by definition, a ring that either is very rare to see, or handcrafted, which means that another ring exactly like that just can't exist. Those rings are usually chosen because a highly original ring is not merely a statement of love, but also expresses the individuality of both lovers in an untraditional way.
If a ring is 'handcrafted', it usually means that the ring has filigree, because filigree is oftentimes the only thing that makes a ring stand out from the crowd, unless you opt for an unusually cut diamond.
Still, there is much more to unusual engagement rings than that. A bluish, bright yellow or pale pink diamond, for example, can add such a diverse touch to the ring that the setting and the ring itself doesn't have to be anything fussy. The same effect can be achieved with a Mokume Gane setting and in many other, diverse ways. In short, anything that is considered 'unusual' in the jewelry industry is unique in one way or another.
Antique rings are also an option. It is highly unlikely that you'll see someone wearing an Edwardian engagement ring or an Art Deco ring. A designer ring, for example a Tacori ring, is also an unusual choice; many of designer engagement rings usually come with fancy colored stones which add a nice, albeit unusual feel.
It is also increasingly common to use the birthstone of the to-be proposed woman to be used in an unusual, together with different accent gemstones. The choices are endless, and an unique engagement ring can be merely a ring which wears significance to the couple. Designing your own engagement ring is also an option; the bottom line – get creative!
Your local jeweler should be the first stop, if you don't have anything in mind yet; let him know that you are seeking for an unusual engagement ring and, more often than not, the local jeweler will handle everything from there. If you have specific preferences for the cut, the gemstone or the ring's setting, inform the jeweler and he'll inform you about such rings. In this day and age, couples are always searching for ways to express their individuality, and a unique engagement ring is the perfect start to that.