Topaz Engagement Rings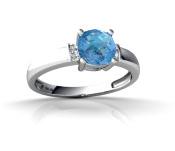 Topaz is a quite mysterious gemstone indeed. Although attributed to the straightforward Sagittarius zodiac sign, topaz, which is a semi-precious metal, spreads confusion in those who look into the depths of these fine stones.
The November birthstone topaz has also spread quite a lot of confusion throughout the jewelry market. Many questions about topaz and topaz engagement rings remain unanswered, for example - what is the expected pricing of fine topaz stones? What are the types of topaz? And what does 'mystic topaz' actually refer to? What are the colors of topaz? Those and many more are answered in this article.
Topaz stones come in many, many varieties. Topaz is actually aluminum fluorine silicate (thus, making it one of the most often found gems in the world) and in pure form is nearly colorless and glass transparent. The color is added because of impurities and traces metal in the gems, usually iron.
Topaz is typically found in yellow, pale gray and blue-brown colors, but the color can be manipulated with the newest technologies. For example, yellow Brazilian topaz can be irradiated to make the topaz blue. An outstanding example of technology applied to topaz is the mystic topaz. A mystic topaz emits a rainbow-like light because of the few micrometers wide coating from titanium, but coatings of other metals do exist.
Topaz rings come in many forms. The aforementioned mystic topaz rings are usually used in solitary rings. Blue topaz rings look splendid in solitary rings, but, more often than not, accent stones are used in topaz engagement rings. Why? Because topaz is that cheap: it is not reasonable for jewelers to sell engagement rings that are worth less than $100.
Accent stones on topaz rings include either rubies -to form an extraordinary ring with a contrasting blue topaz next to a deeply red ruby of the same size- or other accent stones such as amethyst or peridot.
Topaz is the symbol of friendship, and it is obvious that lovers need to be friends, too. A topaz engagement ring is the perfect present for women of any zodiac sign, not just the traditionally related Sagittarius.
If you want a symbolic and beautiful, yet affordable present for your to-be bride, topaz engagement rings are the way to go. Not only it emphasizes the friendship between two lovers, a topaz engagement ring emits the many shades of a long-term relationship that is soon to be secured by a proposal.