Designer Engagement Rings: Tacori and Harry Winston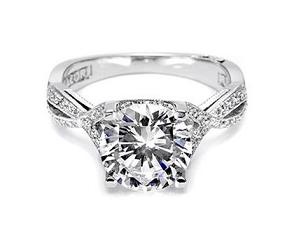 Beautiful rings aren't necessarily handpicked from collections of thousands; neither a ring has to be a customized one, to be beautiful. Special rings can as well be those designed by professionals, and in this page, we'll be briefly discussing the ups and downs, the certain qualities of two kinds of designer engagement rings: Tacori and Harry Winston engagement rings.
Tacori rings are classic engagement rings. A vast choice of tacori rings is available on their home page. Their collection mainly consists of classy, plain engagement rings with some splendid exceptions.
Be it a solitary ring, or a ring with numerous microscopic brilliants as accent stones, a diverse ring with no center stone, or just a truly plain, minimalistic ring, it's available at Tacori. A cut that isn't available in their collection probably doesn't exist.
The only downside for Tacori designer engagement rings could be their 'modernness'. Although classic, these rings can lack the antiquity that either vintage or... other designer rings offer. This is, however, countered by the savvy interface of their homepage, the democratic prices tacori offer, and most certainly the 'Hand Engraved' collection with truly inventive filigree rings.
Visit our recommended Authorized Tacori Dealer Harry Winston, on the other hand, are a quite extravagant choice, or simply put a choice for those who love rings that stand out from the crowd, and are highly valuated by people who can recognize them. In other words, Harry Winston rings are like those from the rarity collections of Tacori. Arguably, there is a lack of plain and simple rings, but HW can be deemed 'Vogue' of the jewelry world, so they don't really care.
The company, founded in 1932 by Harry Winston (as the name implies), is absolutely a firm that brings jewelry to a level of art. HW do, however, realize that jewelry is oftentimes a thing that will attract someone only once in a lifetime; that's the reason why the homepage of HW is full with tips and tricks on how to choose appropriate rings from their gigantic collections.
Obviously, designer engagement rings are more costly than those available readily at your local jeweler with tacori's being the cheapest from the two. However, when buying diamonds, one must find the perfect balance of financial capabilities and the beauty of the ring itself and you shouldn't follow most people who prefer price to quality. As the saying goes, diamonds are forever, and a well-crafted designer engagement ring can make these stones truly timeless.