Asscher Cut Engagement Rings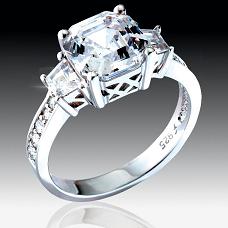 The asscher cut was invented in 1902 by Holland's Asscher brothers. This cut had a recent popularity spike, much like the emerald cut, mainly because asscher cut engagement rings were featured in the series Sex and the City; it was also reportedly used among many Hollywood stars. Today, asscher cut diamonds are not a rarity, but it is uncommon to see a jeweler that has a wide collection of these exotic stones.
As the accent in these rings is on the stone, it is important that you choose the best diamond you can afford. The most important aspect of an asscher cut stone is clarity, which, as a rule, should be at least SI2. The other qualities of the stone aren't as important, with an exclusion of cut, which should at least fall in the 'Good' category, and obviously color, which should be a 'G', or 'H' at the very least.
>> Click here to shop for the finest asscher cut engagement rings at James Allen.
Asscher cut stones have a lot in common with emerald cut ones, for it is sometimes called the square emerald cut. The asscher cut, like the emerald cut, is a step cut with deeply cropped corners that form an octagon shape. The cut was re-invented in 2001 and got new facets in the process. Although asschers aren't necessarily brighter or with more spark than e.g. round or princess cuts, an asscher cut stone can look brighter and asscher stones usually have more fire than typical step cuts, due to it being cut with many parallel steps which create a vivid kaleidoscope when you look in the diamond.
A solitary ring with an asscher is a common choice. Although it does not allow room for much variety, a solitary asscher cut ring looks classy on its own. Accent stones are hard to picture with a stone of this cut, but they are plausible. However, if you're on a tight budget, a solitary ring is a far more viable pick. Also, keep in mind that this cut is patented and each asscher cut diamond, both in a ring and loose, should have a unique id number carved on the girdle that reveals itself only when seen under a jeweler's lens. 
Overall, this distinctive cut which has recently returned to fame is a special sort of diamond, both romantic and fiery. Your only proposal will certainly be a moment to remember, so don't take any risks and acquire the finest stone that fits your budget. A diamond should have no invisible boundaries and its fire should shine just like the light that shines through it; an asscher cut diamond has all of the qualities mentioned above, and its re-invented unique shape makes it a widely sought after stone that people should at least look into.