Vintage Engagement Rings: How to choose a vintage engagement ring?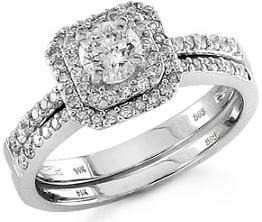 Vintage engagement rings are for those who love delicate, stylish rings with refined filigree and a soft touch of romance. Vintage rings, as a rule, are at least sixty years old and most vintage rings available today are the legacy of post-WWI period when modernism and Bauhaus movements shaped that day's fashion, but romantic, filigree-rich rings were slowly going out of style.
To make you prepared for the moment when you'll choose a sufficient vintage ring for your love, we'll guide you through the various styled rings of vintage character, keeping the wishes of a modern customer in mind.
The four Cs don't exactly work when evaluating vintage engagement rings. Well, they work, but they are judged mostly with common sense of the buyer, not to mention GIA standards. First of all, rings from the Late Victorian era usually have stones with a specific color - pale pink would be an example - but bluish vintage rings are common too.
Of course, the bigger the carat (the weight) of the stone, the higher the ring is eventually going to cost, but as jewelry was not that advanced at the time, vintage ring gems sometimes possess an illusory image of size, because the cutter made that so. And that is great, considering the financial aspect of vintage rings. 
Clarity isn't an issue for vintage engagement rings, because ring settings were quite expensive to make by themselves, why would past jewelers bother with using included, unclear rings for their rings? But again, common sense requires that you at least check the papers of the ring and see if the clarity is written down somewhere.
The cut of vintage ring diamonds is a masterpiece; handcrafted and soft, these stones, although can lack the brilliance of today's laser-cut diamonds, are truly romantic, and a pink hand-cut gem is plainly great.
Another thing you might like about vintage diamond rings is their uniqueness. You won't find another ring alike yours. Vintage Victorian rings, for example, are a true artifact in todays standards. While solitary engagement rings are the most popular in our times, and accent stones, if they exist, are diamonds, a Victorian ring has pearls used as accent stones.
All in all, if you can recognize a cut of the ring (might need a jeweler's loupe for that) and the ring has all the necessary papers - receipts, appraisals, and certifications. Remember, diamonds are forever, and in a romantic ring, they might as well mean that you'll have another everlasting value, not just the ring.