Emerald Cut Engagement Rings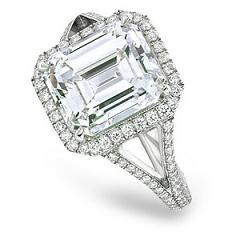 The forerunner of all the other cuts, the Emerald cut, has recently gone popular again.
This cut is named the 'emerald cut' because until recently, it was used exclusively on emeralds. The emerald cut was popular with the movie stars of the 1920s and in the retro period - the shiny effect it offered was simply the best available on the market.
Proportions are crucial in those stones, because they are what make emerald cut jewels shiny, they are what make them beautiful. The cutter has to be a professional; if the cut has gone wrong, the lack of proper prismatic return will make the stone look like a plastic diamond. Therefore, it is important that you not only choose a quality diamond for your engagement ring, but also ask the jeweler specific questions about proportions, the cut, and who the stone was cut by.
Emerald cuts are step cuts and have their corners clipped off. They come with a rectangular shape, but the shape can vary from narrow rectangles to squares. Although emerald cuts usually have more facets than baguettes, they have fewer facets than the standard American brilliant cut.
The classic shape of this cut has a length-width ratio somewhere around 1.30 and 1.40, or, alternatively, from 1.5 to 1.75. The proportions you choose for the stone of your engagement ring should depend on the type of your beloved one's finger.
On a ring, an emerald cut stone more often than not will be accompanied by accent jewels, usually by baguettes and other emerald cuts. Keep in mind that solitary rings will shine only if the diamond is crystal clear. A square emerald cut engagement ring will look fabulously on most fingers, but if the fingers aren't that long, a solitary emerald cut is a risky choice, for it can make fingers appear shorter than they really are.
A sparkling ring with an excellent cut and a certain degree of clarity will make your proposal a blast. Because of its simplicity, the emerald cut is cheaper than similar stones from most of the other cuts (e.g. round cut) and looks bigger than the prior, making it available for couples with a tighter budget. Most of the people are attracted by the classiness of this cut, and the simple shape together with sleek lines that go together with any outfit, are the things which make an emerald cut engagement ring timeless.