Marquise Cut Engagement Rings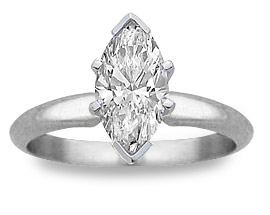 A marquise cut diamond looks marvelous on everyone. A marquise cut diamond is quite similar to pear shaped, oval and round cut diamonds, although it is not as sparkling as the three cuts mentioned.
You can imagine that the shape looks like a raindrop with its bottom side mirroring the top, and if you're a romantic, you can say that it is but a drop of the future, and the ring holds it in a form of promise... the official version, however, is a little different.
The elongated shape was inspired by the smile of Marquise de Pompadour, the lover of Louis XIV also known as 'The Sun King'. The Sun King liked her always amused smile and wanted to reproduce it, that's why marquise cut is one of the oldest cuts there is.
>> Click here to shop for the finest marquise cut engagement rings at James Allen.
Marquise engagement rings are cheaper than the round cut ones, but they can appear to be less shiny than the prior. Rings with marquise cut stones offer a nice effect for the bearer's fingers that make the finger appear more slender. Be sure to double check your ring, especially bargained, for a dark center, the so called 'bow tie' effect that often occurs in marquise engagement rings. It happens when the light is forced to pass through the back of the stone if the angles are too steep; basically, the bow-tie effect is the fault of a cut gone wrong.
The ideal proportions for this type of stone are about 2:1 (length: width). A marquise shape requires the cut be both wide and flat enough. If anything is off balance, the light play dissolves and what you see is a dim, even ugly tone. This can be countered with an enhanced surface that makes the light reflect from the top of the stone, and by the clarity and color of the diamond. The depth percentages are also important for this sort of cut, but not as important as in a round cut. Anything above 58% will suffice.
The marquise cut differs from the oval, round and pear-shaped cuts because of its proportions and the unique fire you can see in diamonds of this kind. Although a marquise engagement ring doesn't smile as mysteriously as Mona Lisa, Marquise de Pompadour doesn't fall short. The feel of this cut can be a little amusing and even playful, thus making a marquise cut ring not only a beautiful present, this cut offers a story for couples that share the love not only for each other, but also for romantic, unusual precious things.